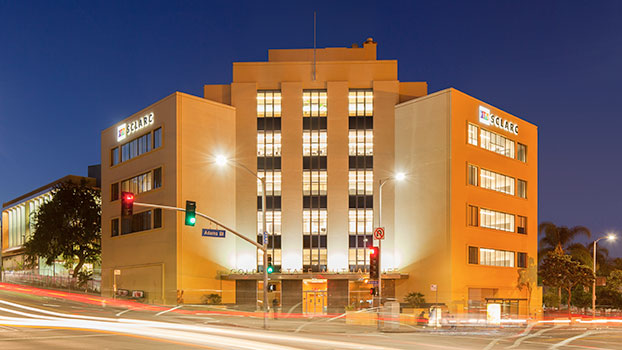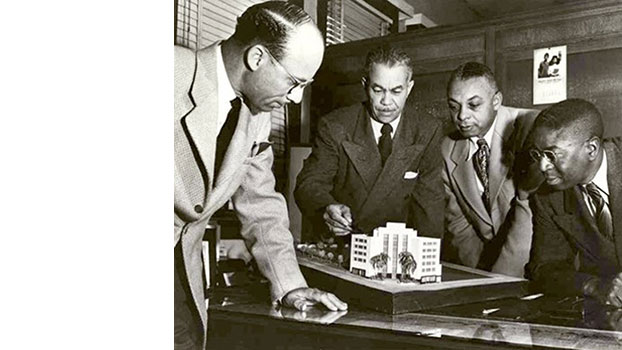 Paul R. Williams Building Wins Prestigious National Award
Ground-breaking Los Angeles architect Paul Revere Williams, FAIA, (1894-1980) was the first African-American member of the American Institute of Architects (AIA), and in 1957 became the first African-American architect elevated to fellowship in the AIA. Renowned for his elegant and sophisticated designs, Williams continually met and exceeded the best of his profession throughout a long and prolific career.
Historic Resources Group has had the honor to be the historic preservation consultant for a number of projects involving Paul R. Williams-designed buildings, including the rehabilitation and adaptive reuse of the 28th Street YMCA; the rehabilitation of the Angelus Funeral Home utilizing federal rehabilitation tax credits; repairs to important character-defining features of the LAX Theme Building (with Pereira & Luckman); and the nomination of the Hunt Residence as a City of Los Angeles Historic-Cultural Monument.
More recently, HRG worked on the rehabilitation of Paul R. Williams' Golden State Mutual Life Insurance Building, which has been recognized with an Award of Excellence as part of the 2016 DOCOMOMO Modernism in America Awards. As one of only four awards nationwide in the category, this distinction befits Paul R. Williams' exemplary body of work. The rehabilitation of this significant building is another important example of continued community benefits through historic preservation.
Image: Golden State Mutual Life Insurance Building. Photo credit: Paul Turang.
Historic Image: Architect Paul R. Williams, left of center, shows the model for the building to Golden State Mutual's Corporate Secretary, Edgar J. Johnson, and co-founders Norman O. Houston and George A. Beavers, Jr. Photo credit: UCLA Library Special Collections.