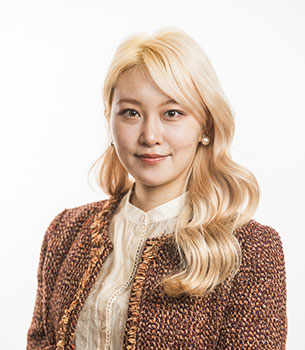 Ye Hong Joins the HRG Team
Historic Resources Group is very pleased to welcome Ye Hong to the HRG staff. Ye has a Master of Heritage Conservation, Building Science, from the University of Southern California. She also has a Bachelor of Fine Art, Art History, degree from the University of California, Los Angeles.
Ye has two years of experience in the preservation field. She started as an intern at HRG just this past summer after graduating with her Master of Heritage Conservation degree. When an Associate Architectural Historian position became available, Ye had already proven herself as an asset to the firm.
Concurrently with her recent coursework at USC, Ye completed an internship at RLA Conservation, analyzing and conserving artifacts. She was also a Research Assistant at the Chinese Academy of Cultural Heritage in Beijing, helping to develop a preservation plan and conducting archival work for the Summer Palace.
Ye's new role as HRG's Associate Architectural Historian will expand her experience in historic preservation and utilize her expertise in materials conservation in providing a variety of services for HRG's clients.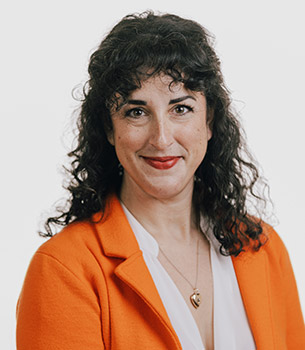 Leah Solomon Rolf Joins the HRG Team!
Historic Resources Group is very pleased to welcome Leah Solomon Rolf to the HRG staff. Leah has a Master of Preservation Studies degree from Tulane University and a bachelor's degree in Public Relations from the University of Southern California. Prior to joining HRG, Leah worked with Rolf Preservation Works, LLC doing tax credit and architectural survey consulting.  She also previously served as Administrative Director for the Hammond (Louisiana) Historic District Commission and Education and Events Coordinator for the Preservation Resource Center of New Orleans.
Leah's career in historic preservation began with hands-on conservation for the Coconino Rural Environment Corps and archiving, fundraising and redevelopment work for the historic properties of Historic Madison Inc.   
Leah's new role as HRG's Business Development Manager will utilize her variety of skills in the historic preservation field as well as her administration and public relations background.  She will assist with the preparation of project proposals, manage the firm's social media, foster relationships with clients and community stakeholders, as well as provide research assistance when able.  Leah looks forward to making new connections and being a part of building HRG for the future!
Adam Rajper Joins the HRG Team!
Historic Resources Group is very pleased to welcome Adam Rajper to the HRG staff. Adam has a master's degree in Historic Preservation with a concentration in Architectural Conservation from Columbia University and bachelor's degree in Architecture from California State Polytechnic University. He brings over seven years of consulting, non-profit, and public sector experience in the preservation field. Adam recently returned to Southern California after spending the last four years in Texas, where he worked for the Office of Historic Preservation and a private consulting firm. Previously, Adam served as Pasadena Heritage's Preservation Director, where he often interacted with HRG staff and his appreciation for the firm's work began.
Adam's new role as HRG's Historic Preservation Specialist will utilize his experience providing a variety of preservation services to property owners, architects, engineers, contractors, non-profit groups, and federal, state, and local regulators.
Happy Holidays from Historic Resources Group
All of us at HRG send you our warmest wishes for a joyous holiday season filled with friends and family, many happy moments, and treasured memories. As we reflect on the past year, we wish to express our gratitude for your continued support and camaraderie!
Wishing you health and happiness in the New Year!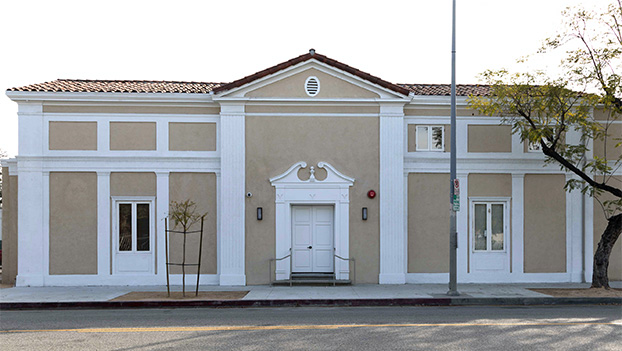 An Award-Winning Year for HRG!
HRG served as the preservation consultant for several projects that were honored by the National Trust of Historic Places, the California Preservation Foundation, and the Los Angeles Conservancy this year.
The Paul R. Williams Apartments was honored by the National Trust for Historic Preservation and was one of three projects to receive the prestigious Richard H. Driehaus Foundation National Preservation Award. The Angelus Funeral Home, founded in 1922, was one of the most successful and prominent African American business in Los Angeles and, in 1934, Paul R. Williams was hired to design their new facility. In 2009, the building was listed in the National Register of Historic Places. The former funeral home was rehabilitated, and new affordable housing was constructed on three surrounding parcels. The historic building was adaptively reused as management offices, community space, and residential units. HRG worked with the project team to review the proposed rehabilitation, assess the compatibility of new construction on the adjacent parcels, and complete the entitlements process.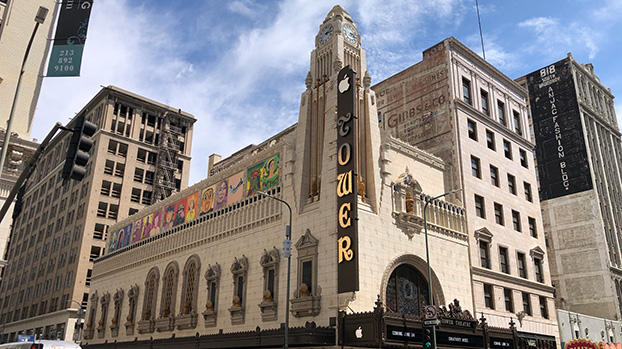 The Tower Theatre rehabilitation project was acknowledged by both the California Preservation Foundation and the Los Angeles Conservancy and received the Foundation's 2022 Trustees Award for Excellence. The Tower Theatre was listed in the National Register of Historic Places in 1979 and was designated a Historic-Cultural Monument by the City of Los Angeles in 1989. Built in 1927 for theatre operator H.L. Gumbiner, the Tower Theatre was designed by architect S. Charles Lee in the Renaissance Revival Style. The scope of the project was extensive and included seismic and structural improvements, reconstruction of the clock tower, and the restoration of the theatre's marquees. HRG assisted in preservation planning and the documentation and inventory of the theatre's original architectural elements, which will allow for the theatre to return to its original use if needed.
The Herald Examiner Building rehabilitation project received recognition from the Los Angeles Conservancy and was the recipient of the Conservancy's 2022 Chair's Award. William Randolph Hearst, business magnate and publisher, commissioned Julia Morgan in 1913 to design this Mission Revival building to house his Los Angeles Examiner offices. The building was threatened with demolition after the newspaper offices closed in 1989; however, a community outcry and efforts by the LA Conservancy halted demolition plans. The rehabilitation project began in 2016 and great care was taken to restore and preserve the building's historic character and features. HRG worked closely with the entire project team on preservation planning, financial incentives, architectural consultation, regulatory and Standards compliance, and design compatibility.
The Chapman Court rehabilitation project received recognition from the California Preservation Foundation and was a winner of the 2022 Preservation Design Award for Rehabilitation. Chapman Court, formerly Chapman Park Studios, was constructed in 1928 and designed by Morgan, Walls & Clements. This excellent example of Spanish Colonial Revival architecture with its orange Churrigueresque tower is an anchor of LA's Koreatown neighborhood. HRG acted as historic preservation consultant for the complete renovation of this mixed-use building, which included seismic rehabilitation and a conversion of the upper floors into office spaces.  We worked closely with the entire project team to ensure the landmark's original historic character was preserved.
These projects were selected by independent juries of experts in architecture, history, historic preservation, engineering, planning and community development.